Table Covers

Elastic Banded Kwik Covers come in a few different colors and cling to the table to ensure
they stay put without the use of tape or staples.
They are heavier then a store bought cover and yours to keep and reuse.

Polyester Linens are restaurant grade table covers that are available in 56 different colors and
multiple drop lengths. These are rented and returned.

Special order colors and sizes are available upon request.
Elastic Banded Plastic Kwik Covers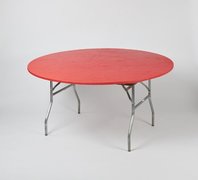 Polyester Linens